On the train ride to
Hualien
, my dad got us the famous Railway bentoboxes (便當)... and that definitely brought back my childhood memory... when my aunt's family were selling benton in Fulong by and at the Fulong train station.
I had only gone back to visit Fulong once, perhaps, since my aunt's family moved away from Fulong. However, I simply couldn't find them pictures taken (imaginary or not). Since my head was getting me mighty annoyed (被我這粒頭煩死啦!) with its constant pursuit to find the picture of Fulong train station, I decided to take a walk down the memory lane... to the summer playground of my childhood, Fulong, which I grew up believing that it's a town in Yilan and only to realize that it's actually a village in the Gongliao District of New Taipei City in the last 2 weeks or so.
I actually didn't know whether I would arrived at Fulong that day... since given the time constraint, I might just go somewhere closer by... speaking of... "I don't know where I'm going." And, I surely knew that I actually made it to Fulong when I heard the announcement on the train... lol
And, finally, I got to see my Fulong train station during the day time and in the night.
Fulong Train Station today (2013)
Fulong Train Station today (2013) in the night.
Without a doubt, the train station I saw looked a bit different from what I remembered... So... I took the liberty to google up some pictures showing what the old station in my memory might look like... what I saw when I went down to visit was like below...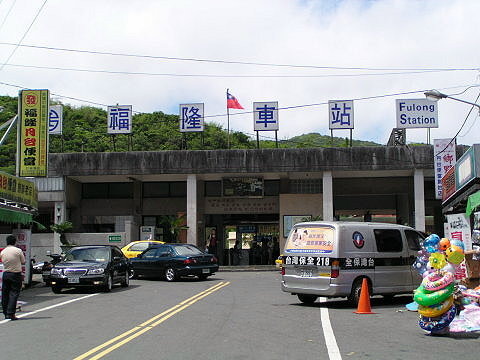 Older Fulong Train Station 舊福隆車站
Whereas what my head was searching for might be the train station shown in this picture taken in 1968 (ok... just for the sake of clarification... before I was born).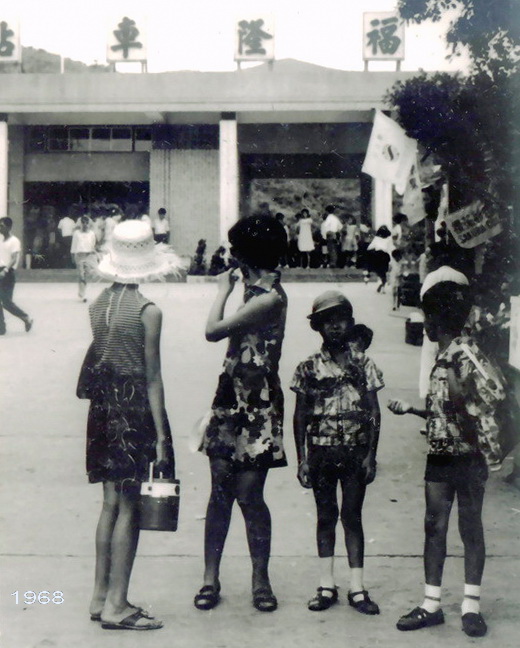 This is more or less the image of the Fulong Train Station I was looking for... a picture taken in 1968 (before I was born).
And, of course, let me not forget the train station in the eyes of the
sand sculptors
...
The reality is... perhaps... what I was reminiscing about was not the train station itself only... but the bento place (
鄉野便當
) my aunt used to run right next to the train station. Every time the train was about to come in, a lot of adults would come in to get the bento boxes and rushed to the platform with that wooden box hanging over their neck... full of bento boxes.
Because I was till pretty young, there was nothing much they could make me do. Then, there came this day right after a typhoon passed... after howling all night and scared the xyz out of me. Someone came to inform us that the train had taken off from Hualien and the whole family rushed to the store... When all the adults were busy doing whatever they were doing, I was assigned the job of cutting eggs (魯蛋)... I gotta be really proud of my egg cutting experience that I still remember today how I was trying to cut one egg at a time. 8-O lol
There were other times when we took the train that stopped at the Fulong station. Knowing which train we were on, auntie and cousins would prepare special bento boxes for us. I remember vividly how, one time, my cousin made me a special bento with egg salad as one of the dish. That might be one of the first times I had a taste of egg salad... and it tasted sooooo nice!
Bento seller today.
Then, there came this one summer, in addition to selling bento boxes, they also brought in this huge machine (like the machine in the picture below) to sell 搖搖冰 (slurpee). I was maybe about 6 or 7 years old... and was mighty in awe with this gigantic machine that could make slurpee on its own. Wow... 8-O
Them good old times when I was much more of a spring chicken! Things might have changed but the trip surely brought back some lovely memories du temps passe!